The focus of the GRF is Alberta's Grassland Natural Region and grasslands of the neighbouring Parkland and Montane Natural Subregions.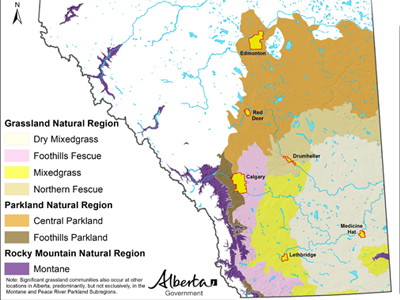 WHY ARE NATIVE GRASSLANDS IMPORTANT?
Grasslands are a rich landscape that provides important ecosystem functions, such as cleansing our air, storing and filtering our water, capturing carbon and supplying sustainable grazing. 
Native grasslands, from flat, dry prairie to montane meadows, provide a diversity of habitats that support a suite of wildlife from sage grouse to grizzly bears. Alberta's native grasslands provide environmental, economic and social benefits to the residents of Alberta and beyond. 
Conservation of intact native grassland landscapes and successful restoration practices are critical to maintaining habitat, biodiversity and ecosystem function in a multiple use landscape.