About Grassland Restoration Forum
WHAT IS THE GRASSLAND RESTORATION FORUM?
The Grassland Restoration Forum (GRF) promotes the conservation and restoration of native grasslands in Alberta through education, outreach and research to improve reclamation practice and foster stewardship. The GRF began in 2006 as a collaboration between members of provincial agencies, the ranching community, conservation organizations, First Nations, industry, plant ecologists and reclamation practitioners.
Our valued committees
continue to work together to make a difference!
The GRF's Steering Committee
with their many years of combined experience from diverse backgrounds, provide a wealth of knowledge, leadership, goal setting, vision, and promotion.
TECHNICAL ADVISORY COMMITEE
is a multi-disciplinary group of prairie stakeholders which supports the GRF through participating in research projects, workshops, communication, and promotion.
The focus of the GRF is in Alberta's Grassland Natural Region and grasslands of the neighboring Parkland and Montane Natural Subregions.  The GRF respectfully acknowledges that these areas are within the traditional territories of Treaties 4, 6 and 7 of the First Nations and Metis Regions 2 and 3.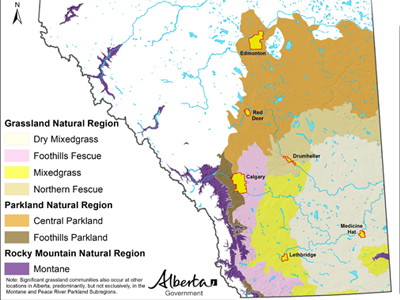 The GRF contributes to policy development, develops guidance for positive influence for restoration and reclamation including published manuals.  We host an information portal to facilitate information transfer on conserving and restoring native grasslands. (More Information Button which links to dropdown). We connect the Grassland Community through social media and our website provides information on upcoming grassland restoration events throughout Alberta and western Canada. 
We promote effective grassland restoration strategies through knowledge transfer and skills development.  Yearly Education and outreach events include: Grassland Restoration – Industry Field Tours;  Grassland Assessment Classroom-based and Field Training; Stavely Research Station Range Walk and the Annual Fall Information Session. (More Information Button which links to dropdown)
Registered Society through the Southern Alberta Sustainable Community Initiative (SASCI)
The GRF is a Non-Profit Organization administered through the Southern Alberta Sustainable Community Initiative (SASCI) – an umbrella organization and registered charity that provides administrative support to non-profit organizations. We rely on sponsorship for cost recovery and continuation of the Grassland Restoration Forum. We are seeking financial support through corporate and community sponsorship

SIGN UP FOR OUR MAILING LIST