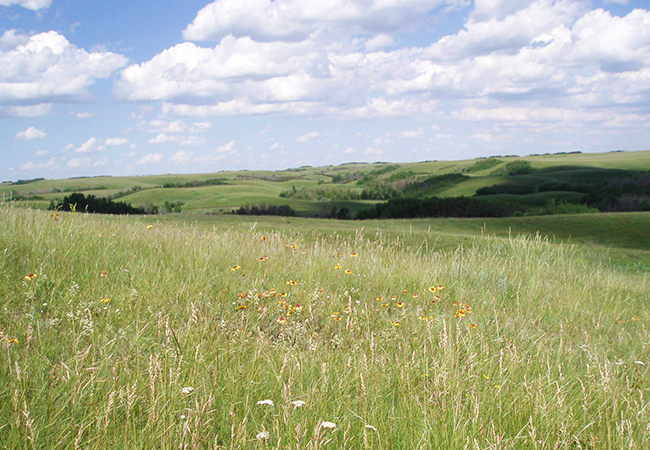 OUR PERENNIAL GATHERING! GRASSLAND RESTORATION FORUM FALL INFORMATION SESSION
Join us in person again this November for our annual Fall Information Session. This one-day event gathers a variety of industry and grassland stakeholders to exchange current information on grassland restoration and conservation through a variety of presentations and mini-updates. With booths, feature artists and lunch provided, you can expect an informative day to network and catch up on grassland restoration news in Alberta. While we are still compiling our agenda (full agenda will be released closer to the event), you can look forward to hearing about the following topics: 
Enhancing Topsoil by Building Soil Biology – Dr. Yamily Zavala, CARA

Arbuscular Mycorrhizal Fungi in Natural Ecosystems and Agricultural Soils – Dr. Adriana

Morrell,
Lethbridge College
Stakeholder Engagement and Planning to Overcome Reclamation Challenges in Critical Sage
Grouse Habitat– Samantha Price – Orphan Well Association
Fescue Grassland Reclamation Along a Pipeline Right-Of-Way: A 10-Year Monitoring Project –
Marshall McKenzie, Innotech Alberta

Use of Prescribed Fire as a Tool in Prairie Restoration – Renny Grilz – Meewasin Valley Authority

Defragmenting: A Diary of Reclaiming Abandoned Cultivation to Native Cover – Jane Lancaster

Targeted Grazing: Matching Plants with Herbivores – Marilyn Neville, Gramineae Services Ltd.

Southern Alberta Native Seed Collaborative – Rob Sissons, Parks Canada

Integrated Weed Management with Citizen Scientists in Fish Creek – Emma Stroud
Cost for the day's event: 
Early Bird Rate (Register by 5:00 pm October 31, 2022): $80.00 per person
After 5:00 pm October 31: $100.00 per person 
Students and Agricultural Producers:  $50.00 
Location: Claresholm Community Centre, 5920 8th Street West, Claresholm, AB.
*Fees include coffee, snacks, a locally catered lunch and plenty of opportunity to visit and network. 
Registration: Online Registration is available at www.grasslandrestorationforum.ca; or you are welcome to contact Donna Watt directly at: [email protected] or (403) 563‐8925. There is a $50 administration fee for registration cancellations up to 48 hours in advance of an event. Sorry, no cancellations after that.
We are a go for in person and cannot wait to welcome you all to our annual Fall Information Session.